TO EACH ONE OF US GRACE WAS GIVEN ACCORDING
TO THE MEASURE OF CHRIST'S GIFT.
( EPHESIANS 4:7 *NKJV )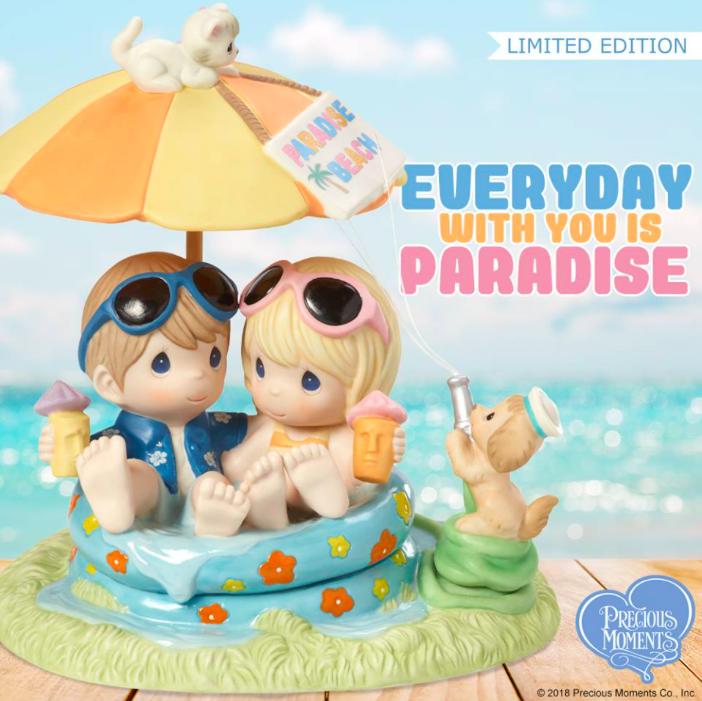 Brighten up your day and your garden with 20% off garden gifts at PreciousMoments.com! Use code GARDEN20%. Sale ends 7/15.

We have all heard the Hymn "Amazing Grace," but
did you ever wonder what the word "grace" meant in the
Bible? Well "grace" in the New Testament is the Greek
word [charis] which means underserved acceptance or
favor, as well as, love received from another.
Now let us look at the Grace of God and what it means
to each one of us. It is written; FOR BY GRACE YOU HAVE
BEEN SAVED THROUGH FAITH, AND THAT NOT OF
YOURSELVES; IT IS A GIFT OF GOD.
( EPHESIANS 2:8 )

Also the same Grace protects us, comforts us, and
guides us as well, so; LET US THEREFORE COME BOLDLY
TO THE THRONE OF GRACE, THAT WE MAY OBTAIN
MERCY AND FIND GRACE TO HELP IN TIME OF NEED.
( HEBREWS 4:16 )
Further, God's Great Love comes to us through His;
Grace; AND WE HAVE KNOWN AND BELIEVED THE
LOVE THAT GOD HAS FOR US. GOD IS LOVE, AND
HE WHO ABIDES IN LOVE ABIDES IN GOD, AND
GOD IN HIM. For after all; WE LOVE HIM BECAUSE HE
FIRST LOVED US. ( 1 JOHN 4:16 & 19 )
So, my prayer for you is to; GROW IN THE
GRACE AND KNOWLEDGE OF OUR LORD AND
SAVIOR JESUS CHRIST. TO HIM BE THE GLORY
BOTH NOW AND FOREVER. AMEN
( 2 PETER 3:18 )
With our love and prayers.
Dr. Lowell & Judy Mason P.O. Box 1195 – Joplin, Missouri 64802
IMPORTANT NOTE: Your support of our ministry wins souls, strengthens God's people, and provides charity in times of need through "OPERATION WECARE" which is our 501c3, tax exempt, charitable corporation . Your gift is tax deductIble and should be made out to: Operation WeCare – P.O. Box 1195 – Joplin, Missouri 64802
You may also donate at Pay Pal. Send to LowellMason@Joplin.com
For additional information go to our website: lowellmason.com
Have a wonderful day, and may the love of Christ
fill your heart and mind, now and always.