…………………….THOUGHT FOR THE DAY…………………….
COME TO ME, ALL YOU WHO ARE WEARY AND BURDENED,
AND I WILL GIVE YOU REST.  TAKE MY YOKE UPON YOU
AND LEARN FROM ME, FOR I AM GENTLE AND HUMBLE
IN HEART, AND YOU WILL FIND REST FOR YOUR SOULS.
FOR MY YOKE IS EASY AND MY BURDEN IS LIGHT.
( MATTHEW 11:28-30 *NIV )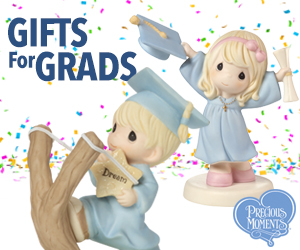 Spring into action now to save 15% sitewide with code SPRINGSAVINGS at PreciousMoments.com! Sale ends 5/31.
As you already know, it is hard to find any rest
with so many trials, tribulations, conflicts, and burdens in our
lives today.  However when we follow Jesus, He will provide us
with rest and make our burdens lighter.  For THE LORD UPHOLDS
ALL THOSE WHO FALL AND LIFTS UP ALL WHO ARE
BOWED DOWN.  ( PSALM 145:14 )

So when you feel stressed; CAST YOUR CARES ON THE LORD
AND HE WILL SUSTAIN YOU; HE WILL NEVER LET THE
RIGHTEOUS FALL.  ( PSALM 55:22 ) After all GOD IS OUR
REFUGE AND STRENGTH, AN EVER-PRESENT HELP IN
TROUBLE.   ( PSALM 46:1 )
Find Top Christian Bestseller at Churchsource.com
Also remember that; BLESSED IS THE MAN WHO PERSEVERES
UNDER TRIAL, BECAUSE WHEN HE HAS STOOD THE TEST,
HE WILL RECEIVE THE CROWN OF LIFE THAT GOD HAS
PROMISED TO THOSE WHO LOVE HIM.  ( JAMES 1:12 )

Therefore; PRAISE BE TO THE GOD AND FATHER OF OUR
LORD JESUS CHRIST, THE FATHER OF COMPASSION AND
THE GOD OF ALL COMFORT, WHO COMFORTS US IN ALL
OUR TROUBLES, SO THAT WE CAN COMFORT THOSE IN
ANY TROUBLE WITH THE COMFORT WE OURSELVES
HAVE RECEIVED FROM GOD.  Amen
( 2 CORINTHIANS 1:3-4 )

So, have a wonderful day that is filled with
"Peace", and SMILE for God Loves You!
With our love and prayers.
Dr. Lowell & Judy Mason                                                                                                                                                                                                                                                 P.O. Box 1195 – Joplin, Missouri 64802
As you know, our ministry is a ministry of Faith, and is supported by God's people.
Romans 12:8 says: "If God has given you money….be generous in helping others"!                                                                                                                                               "Therefore, I ask you to consider being generous toward our ministry."
Every morning we pray for those of you who read                                                                                                                                                   our Thought For The Day.
Have a wonderful day, and may the love of Christ
fill your heart and mind, now and always.