As God's Children we are not to judge
one another…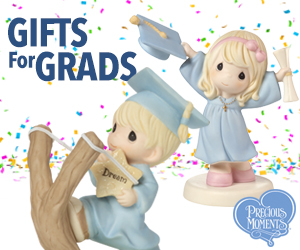 Gifts to honor the mothers in your church and community for only $1.50 plus free shipping on $25+ orders.
…………………….THOUGHT FOR THE DAY…………………
JUDGE NOT, AND YOU SHALL NOT BE JUDGED.
CONDEMN NOT, AND YOU SHALL NOT BE
CONDEMNED. FORGIVE, AND YOU WILL BE
FORGIVEN."
( LUKE 6:37 *NKJV )
As God's Children we are not to judge
one another, but to love each other and forgive each
other just as our Heavenly Father has forgiven us.
For it is written, "LET ALL BITTERNESS, WRATH,
ANGER, CLAMOR, AND EVIL SPEAKING BE PUT
AWAY FROM YOU, WITH ALL MALICE. AND BE
KIND TO ONE ANOTHER, TENDER HEARTED,
FORGIVING ONE ANOTHER, EVEN AS GOD IN
CHRIST FORGAVE YOU." ( EPHESIANS 4:31-32 )
After all Jesus gave us this stern warning, IF YOU
FORGIVE MEN THEIR TRESPASSES, YOUR
HEAVENLY FATHER WILL ALSO FORGIVE YOU.
BUT IF YOU DO NOT FORGIVE MEN THEIR
TRESPASSES, NEITHER WILL YOUR FATHER
FORGIVE YOUR TRESPASSES.
( MATTHEW 6:14-15 )
Our Savior Jesus Christ also said "WHEN EVER
YOU STAND PRAYING, IF YOU HAVE ANYTHING
AGAINST ANYONE, FORGIVE HIM, THAT YOUR
FATHER IN HEAVEN MAY ALSO FORGIVE YOU
YOUR TRESPASSES." ( MARK 11:25 )
So do not let anger with another control
your thinking, and dominate your mind. For anger
often turns to vengeance, and remember God said,
"VENGEANCE IS MINE; I WILL REPAY, SAYS
THE LORD. (ROMANS 12:19)
"THEREFORE, AS THE ELECT OF GOD, HOLY AND
BELOVED, PUT ON TENDER MERCIES, KINDNESS,
HUMILITY, MEEKNESS, LONGSUFFERING;
BEARING WITH ONE ANOTHER, AND FORGIVING
ONE ANOTHER, IF ANYONE HAS A COMPLAINT
AGAINST ANOTHER; EVEN AS CHRIST FORGAVE
YOU, SO YOU MUST DO. BUT ABOVE ALL THINGS
PUT ON LOVE, WHICH IS THE BOND OF
PERFECTION. AMEN! ( COLOSSIANS 3:12-14 )
Dr. Lowell & Judy Mason P.O. Box 1195 – Joplin, Missouri 64802
Exciting news at our website: www,lowellmason.com
Our ministry is a ministry of Faith, and is supported by God's people. You may now support us by using PayPal.com and enter, LowellMason@joplin.com No gift is too small – No gift is too large. Thank you for your support.
Every morning we pray for those of you who read our Thought For The Day.
Have a wonderful day, and may the love of Christ
fill your heart and mind, now and always.