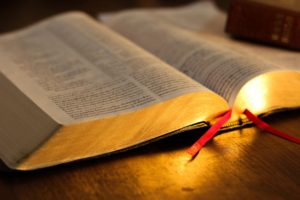 … Thought For The Day…
"THE NEXT DAY JOHN* SAW JESUS COMING TOWARD HIM, AND SAID, BEHOLD! THE LAMB OF GOD WHO TAKES AWAY THE SIN OF THE WORLD!"
(JOHN 1:29 *NKJV)
          [*John the Baptist]
Have you ever wondered why Jesus is called the Lamb of God?  Well every morning and evening, a lamb was sacrificed in the temple for the sins of the people. This was written in the law, [see EXODUS 29:38-42] thus to pay the penalty for sin, a life had to be taken.
Because of God's tremendous love for us, He chose to provide the sacrifice Himself!  Thus the sins of the world were paid-in-full when Jesus Christ died as the perfect sacrifice!  For it is written, "INDEED CHRIST, OUR PASSOVER, WAS SACRIFICED FOR US."   (1 CORINTHIANS 5:7)

So, remember the tremendous price that was paid by our Savior Jesus Christ, for the redemption of our sins!   For as it is written, "AS FAR AS THE EAST IS FROM THE WEST, SO FAR HAS HE REMOVED OUR TRANSGRESSIONS FROM US."   (PSALM 103:12)

With Our Love & Prayers,
Dr. Lowell & Judy Mason
P.O. Box 1195 – Joplin, Missouri 64802
American International Ministries, Inc
Operation WeCare, Inc
Follow us on Facebook
When you patronize our affiliate sponsors through these links, you support our ministry. Thank you!!
Extra Savings! 10% off anything with code 2018SAVE10 at ChurchSource.com! Free shipping on $25+ orders. Sale ends 1/20.
Bette's Box of Blessings – $29.99

Bette's Box of Blessings is a monthly Christian subscription box that will help you grow and share your faith. Each box will contain books, music and other gift items that have been curated around an encouraging theme and will beperfect to encourage yourself or others.