ALL THESE BLESSINGS WILL COME UPON YOU AND
ACCOMPANY YOU IF YOU OBEY THE LORD YOUR GOD:… Read more below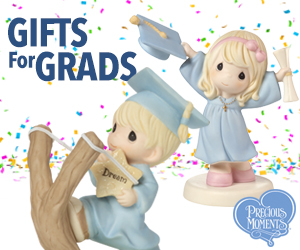 Gifts to honor the mothers in your church and community for only $1.50 plus free shipping on $25+ orders.
…….THOUGHT FOR THE DAY…………………….
ALL THESE BLESSINGS WILL COME UPON YOU AND
ACCOMPANY YOU IF YOU OBEY THE LORD YOUR GOD:
YOU WILL BE BLESSED IN THE CITY AND BLESSED IN
THE COUNTRY. YOU WILL BE BLESSED WHEN YOU
COME IN AND BLESSED WHEN YOU GO OUT.
( DEUTERONOMY 28:2,3, 6 *NIV )
God's many blessings continue to please us, so we should
do our best to please God as well!
We do that by obeying His Commandments and by loving
our neighbors as ourselves. For our Savior Jesus Christ said,
"YOU SHALL LOVE THE LORD YOUR GOD WITH ALL
YOUR HEART, WITH ALL YOUR SOUL, AND WITH ALL
YOUR MIND. THIS IS THE FIRST AND GREAT
COMMANDMENT. AND THE SECOND IS LIKE IT: YOU
SHALL LOVE YOUR NEIGHBOR AS YOURSELF ON
THESE TWO COMMANDMENTS HANG ALL THE LAW
AND THE PROPHETS." ( MATTHEW 22:39-40 )
So, do your best each day to live by our Lord's
Commandments, and share your love with others so; THAT YOU
MAY WALK WORTHY OF THE LORD, FULLY PLEASING
HIM, BEING FRUITFUL IN EVERY GOOD WORK AND
INCREASING IN THE KNOWLEDGE OF GOD.
( COLOSSIANS 1:10 )
After all when you do, His blessings will flow abundantly
to you! For it is even written that; WHEN A MAN'S WAYS
PLEASE THE LORD, HE MAKES EVEN HIS ENEMIES
TO BE AT PEACE WITH HIM. Amen.
( PROVERBS 16:7 )
With Our Love And Prayers,
Dr. Lowell & Judy Mason P.O. Box 1195 – Joplin, Missouri 64802
As you probably know, our ministry is a ministry of Faith, and is supported by God's people. You can support us by a direct gift to the above mailing address, or by using PayPal.com and enter, LowellMason@joplin.com – No gift is too small – No gift is too large. Thank you for your support. Romans 12:8 says: "If God has given you money….be generous in helping others! "Therefore, I ask you to consider being generous toward our ministry."
Every morning we pray for those of you who read our Thought For The Day.
Have a wonderful day, and may the love of Christ
fill your heart and mind, now and always.