AT THAT TIME THE DISCIPLES CAME TO JESUS AND ASKED, "WHO IS THE GREATEST IN THE KINGDOM OF HEAVEN?"…. read more below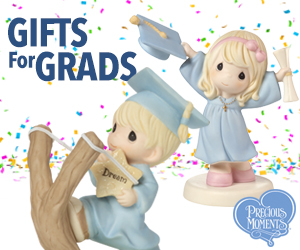 Gifts to honor the mothers in your church and community for only $1.50 plus free shipping on $25+ orders.
…………………….THOUGHT FOR THE DAY…………………….
AT THAT TIME THE DISCIPLES CAME TO JESUS AND
ASKED, "WHO IS THE GREATEST IN THE KINGDOM OF
HEAVEN?" HE CALLED A LITTLE CHILD AND HAD HIM
STAND AMONG THEM. AND HE SAID: "I TELL YOU THE
TRUTH, UNLESS YOU CHANGE AND BECOME LIKE
LITTLE CHILDREN, YOU WILL NEVER ENTER THE
KINGDOM OF HEAVEN. THEREFORE, WHOEVER
HUMBLES HIMSELF LIKE THIS CHILD IS THE GREATEST
IN THE KINGDOM OF HEAVEN.
( MATTHEW 18:1-4 *NIV )
Jesus used a small child to help Him make a point with
His Disciples, and to us as well!. The point was not to be
childish, but rather childlike, with humble and sincere hearts!
When we think of it, a little child is humble and also has
a pure heart! Further, they are innocent of the evils of the
World, and trusting! For a child trusts whatever a parent
tells them. They have no preconceived ideas in their mind,
and are excited to learn all that they can with honest
curiosity.
When we apply that to ourselves, it means that we must
also be humble, and trust God with all our heart and place
all of our faith in Him. We must also have the desire to
learn His precious Word as well, believing it without
preconceived ideas of our own. For it is written; TRUST THE
LORD WITH ALL YOUR HEART AND LEAN NOT ON
YOUR OWN UNDERSTANDING.
( PROVERBS 3:5 )
For then you will; GROW IN THE GRACE AND
KNOWLEDGE OF OUR LORD AND SAVIOR JESUS
CHRIST. TO HIM BE GLORY BOTH NOW AND
FOREVER! AMEN. ( 2 PETER 3:18 )
Now, my prayer for you is; MAY THE GOD OF
HOPE FILL YOU WITH ALL JOY AND PEACE IN
BELIEVING, THAT YOU MAY ABOUND IN HOPE
BY THE POWER OF THE HOLY SPIRIT. Amen.
( ROMANS 15:13 )
Dr. Lowell & Judy Mason P.O. Box 1195 – Joplin, Missouri 64802
As you probably know, our ministry is a ministry of Faith, and is supported by God's people. You can support us by a direct gift to the above mailing address, or by using PayPal.com and enter, LowellMason@joplin.com – No gift is too small – No gift is too large. Thank you for your support. Romans 12:8 says: "If God has given you money….be generous in helping others! "Therefore, I ask you to consider being generous toward our ministry."
Every morning we pray for those of you who read our Thought For The Day.
Have a wonderful day, and may the love of Christ
fill your heart and mind, now and always.