…………………….THOUGHT FOR THE DAY…………………….
CAUSE ME TO HEAR YOUR LOVING KINDNESS IN THE
MORNING, FOR IN YOU I DO TRUST; CAUSE ME TO
KNOW THE WAY IN WHICH I SHOULD WALK, FOR I
LIFT UP MY SOUL TO YOU.
( PSALM 143:8 *NKJV )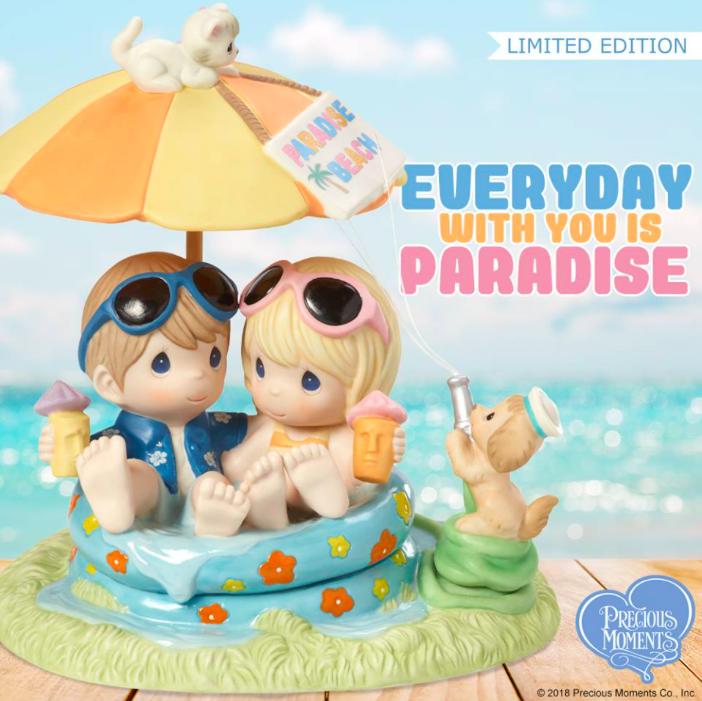 Brighten up your day and your garden with 20% off garden gifts at PreciousMoments.com! Use code GARDEN20%. Sale ends 7/15.

As you may know, when we invite God into our life, and
ask HIM to take control of our "life and will," we start on the
journey to become the person that we were meant to be.
For it is written; IF ANYONE IS IN CHRIST, HE IS A NEW
CREATION; OLD THINGS HAVE PASSED AWAY; BEHOLD,
ALL THINGS HAVE BECOME NEW.
( 2 CORINTHIANS 5:17-18 )
This is because God begins to reshape us into that person.
For it is written; BUT NOW, O LORD, YOU ARE OUR FATHER;
WE ARE THE CLAY, AND YOU OUR POTTER; AND ALL
WE ARE THE WORK OF YOUR HAND. ( ISAIAH 64:8 )

Now as we become that new person, God will lead us
to the path that He chosen for us to walk. It is then that we
become filled with the Holy Spirit, as well as, THE FRUIT OF
THE SPIRIT WHICH IS LOVE, JOY, PEACE, PATIENCE,
KINDNESS, GOODNESS, FAITHFULNESS, GENTLENESS,
AND SELF-CONTROL. AGAINST SUCH THINGS THERE
IS NO LAW. ( GALATIANS 5:22-23 )
So why not ask God to take control of your "life
and will" today, if you haven't already? Also say to Him;
SHOW ME YOUR WAYS, O LORD; TEACH ME YOUR
PATHS. LEAD ME IN YOUR TRUTH AND TEACH ME,
FOR YOU ARE THE GOD OF MY SALVATION. Amen.
( PSALM 25:4-5 )
With our love and prayers.
Dr. Lowell & Judy Mason P.O. Box 1195 – Joplin, Missouri 64802
IMPORTANT NOTE: Your support of our ministry wins souls, strengthens God's people, and provides charity in times of need through "OPERATION WECARE" which is our 501c3, tax exempt, charitable corporation . Your gift is tax deductIble and should be made out to: Operation WeCare – P.O. Box 1195 – Joplin, Missouri 64802
You may also donate at Pay Pal. Send to LowellMason@Joplin.com
For additional information go to our website: lowellmason.com
Have a wonderful day, and may the love of Christ
fill your heart and mind, now and always. Every morning we pray for everyone who reads THOUGHT FOR THE DAY.