YOU ARE ALL SONS OF GOD THROUGH FAITH IN
CHRIST JESUS…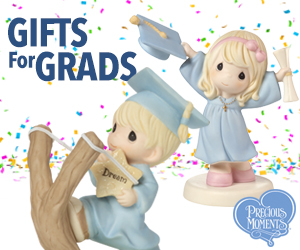 Gifts to honor the mothers in your church and community for only $1.50 plus free shipping on $25+ orders.
…………………….THOUGHT FOR THE DAY…………………….
YOU ARE ALL SONS OF GOD THROUGH FAITH IN
CHRIST JESUS, FOR ALL OF YOU WHO WERE
BAPTIZED INTO CHRIST HAVE CLOTHED YOURSELF
WITH CHRIST. THERE IS NEITHER JEW NOR GREEK,
SALVE OR FREE, MALE OR FEMALE, FOR YOU ARE
ALL ONE IN CHRIST.
( GALATIANS 3:26-28 *NKJV )
Now you know why the message is addressed to
God's Children this morning! For truly those who love
and worship God are His children. FOR IN HIM WE LIVE AND
MOVE AND HAVE OUR BEING. AS SOME OF YOUR
OWN POETS HAVE SAID, WE ARE HIS OFFSPRING.
( ACTS 17:28 ) Think about that the next time you
are feeling low, or are depressed and worried because
of a problem that you are facing. I'll bet that it won't seem
so big if you do!
The Prophet David wrote; FOR YOU ARE MY ROCK AND
MY FORTRESS; THEREFORE, FOR YOUR NAME'S
SAKE, LEAD ME AND GUIDE ME. ( PSALM 31:3 )
So; TRUST IN HIM AT ALL TIMES, YOU PEOPLE; POUR
OUT YOUR HEART BEFORE HIM; GOD IS A REFUGE
FOR US. ( PSALM 62:8 )
So, as a member of God's Great Family, never
feel alone and think that there is no one to turn too, FOR HE
HIMSELF HAS SAID, "I WILL NEVER LEAVE YOU NOR
FORSAKE YOU." SO WE MAY BOLDLY SAY "THE
LORD IS MY HELPER; I WILL NOT FEAR. WHAT CAN
MAN DO TO ME?" ( HEBREWS 13:5-6 )
Therefore He will always be there to love you, and guide
you through any difficulty! Amen.
Dr. Lowell & Judy Mason P.O. Box 1195 – Joplin, Missouri 64802
Our ministry is a ministry of Faith, and is supported by God's people. You may now support us by using PayPal.com and enter, LowellMason@joplin.com No gift is too small – No gift is too large.
Every morning we pray for those of you who read our Thought For The Day.
Have a wonderful day, and may the love of Christ
fill your heart and mind, now and always.