…………………….THOUGHT FOR THE DAY…………………….
THEN I SAID, "HERE I AM, I HAVE COME–IT IS WRITTEN
IN THE SCROLL. I DESIRE TO DO YOUR WILL, O MY
GOD; YOUR LAW IS WITHIN MY HEART."
( PSALM 40:7-8 *NIV )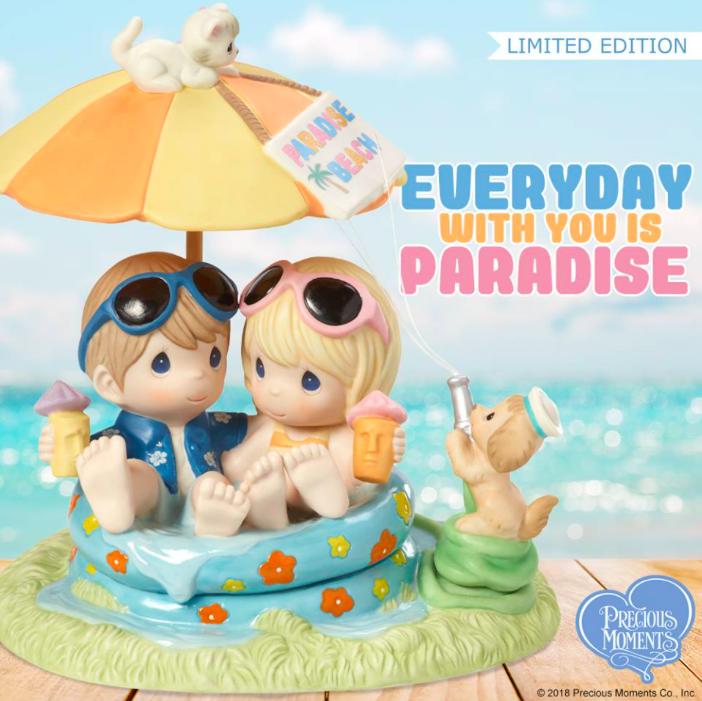 Brighten up your day and your garden with 20% off garden gifts at PreciousMoments.com! Use code GARDEN20%. Sale ends 7/15.

God has a plan for each of us, for it is written: "I KNOW THE
PLANS I HAVE FOR YOU, SAYS THE LORD. "THEY
ARE PLANS FOR GOOD, NOT FOR EVIL, TO GIVE
YOU A FUTURE AND A HOPE." ( JEREMIAH 29:11 )
Now when we follow the path that God has for us, we find
that God is a very kind leader. Only He knows our future,
and His plans for us are good and full of hope! This does
not mean that we will be spared pain, suffering, or hardship,
but that God will see us through to a glorious conclusion!

After all, THE PRECEPTS OF THE LORD ARE RIGHT,
GIVING JOY TO THE HEART. THE COMMANDS OF
THE LORD ARE RADIANT, GIVING LIGHT TO THE EYES.
THEY ARE MORE PRECIOUS THAN GOLD, THAN MUCH
PURE GOLD; THEY ARE SWEETER THAN HONEY, THAN
HONEY FROM THE COMB. ( PSALM 19:8 & 10 )
Further, IF THE LORD DELIGHTS IN A MAN'S WAY, HE
MAKES HIS STEPS FIRM; THOUGH HE STUMBLE, HE
WILL NOT FALL, FOR THE LORD UPHOLDS HIM WITH
HIS HAND. ( PSALM 37:23-24 )
So, if you are not already walking the path that
God has chosen for you, why not ask Him in prayer to lead
you to it. For once you have found that path your heart will
become filled with joy, and THE PEACE OF GOD, THAT
TRANSCENDS ALL UNDERSTANDING, WILL GUARD
YOUR HEART AND MIND IN CHRIST JESUS. Amen!
( PHILIPPIANS 4:7 )
With our love and prayers.
Dr. Lowell & Judy Mason P.O. Box 1195 – Joplin, Missouri 64802
IMPORTANT NOTE: Your support of our ministry wins souls, strengthens God's people, and provides charity in times of need through "OPERATION WECARE" which is our 501c3, tax exmpt charitable corporation .
Your gift is tax deductIble and should be made out to: Operation WeCare – P.O. Box 1195 – Joplin, Missouri 64802
You may also donate at Pay Pal. Send to LowellMason@Joplin.com
For additional information go to our website: lowellmason.com
Have a wonderful day, and may the love of Christ
fill your heart and mind, now and always. Every morning we pray for everyone who reads THOUGHT FOR THE DAY.