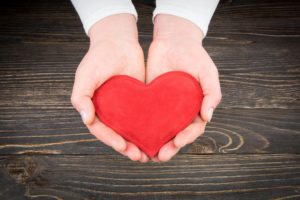 ……THOUGHT FOR THE DAY…..
FOR I AM PERSUADED THAT NEITHER DEATH NOR
LIFE, NOR ANGELS NOR PRINCIPALITIES NOR
POWERS, NOR THINGS PRESENT NOR THINGS TO
COME, NOR HEIGHT NOR DEPTH, NOR ANY OTHER
CREATED THING, SHALL BE ABLE TO SEPARATE US
FROM THE LOVE OF GOD WHICH IS IN CHRIST JESUS
OUR LORD.
( ROMANS 8:38-39 *NKJV )
God fills us with His love, and He wants us
to share that great love with others. So BELOVED, LET US LOVE
ONE ANOTHER: FOR LOVE IS OF GOD; AND EVERYONE
THAT LOVES IS BORN OF GOD AND KNOWS GOD.
( I JOHN 4:7 )

So why not show your love for others each and every
day. You can do that by being a good friend, and lending
a helping hand when someone is in need.  It is also as
simple as smiling and saying hello to everyone you
meet, and asking them how their day is going.  So let
your love shine brightly, and try to be a friend to all.
After all, Jesus said, "THIS IS MY COMMANDMENT, THAT
YOU LOVE ONE ANOTHER AS I HAVE LOVED  YOU."
( JOHN 15:12 )

Most important of all, remember also that Jesus said,
"THOU SHALL LOVE THE LORD YOUR GOD WITH ALL
YOUR HEART, AND WITH ALL YOUR SOUL, AND WITH
ALL YOUR MIND, AND WITH ALL YOUR STRENGTH."
( MARK 12:30 ) For when you do, God will fill you with
that same amount of love in return!
Now may GRACE BE WITH ALL THOSE WHO
LOVE OUR LORD JESUS CHRIST WITH SINCERITY.
AMEN.  ( EPHESIANS 6:24 ) and I know that means
you my friend!
With Our Love & Prayers,
Dr. Lowell & Judy Mason
P.O. Box 1195 – Joplin, Missouri 64802
Operation WeCare, Inc
Follow us on Facebook
There are many successful businesses that pay a commission back to Charitable corporations, like ours, when we advertise for them.
Our ministry has been chosen to to receive commissions from some of these companies. At the bottom of this page you will see advertisement links from those companies.
The only way our ministry will receive credit is if you click on that advertisement, then as you browse through the list of products and place an order for items sold by these companies, the company will send the product directly to you. That company will then send us a commission, and you have supported our ministry.