…………………….THOUGHT FOR THE DAY…………………….
Jesus taught us to say, GIVE US THIS DAY OUR DAILY BREAD.
( MATTHEW 6:11 *NKJV )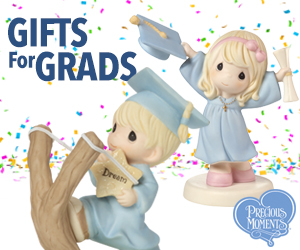 Gifts to honor the mothers in your church and community for only $1.50 plus free shipping on $25+ orders.
The word's "Daily Bread" refer to our spiritual food, that
being the Word of God. For, MAN DOES NOT LIVE ON BREAD
ALONE BUT ON EVERY WORD THAT COMES FROM THE
MOUTH OF THE LORD. ( DEUTERONOMY 8:3 )
Now, did you ever notice when reading the Scriptures how
the Word ministers to us in different ways depending on what
our current situation is? Well this is because, THE WORD OF
GOD IS LIVING AND POWERFUL, AND SHARPER THAN
ANY TWO-EDGED SWORD. Thus we my boldly say,
YOUR WORD IS A LAMP TO MY FEET AND A LIGHT TO
MY PATH. ( HEBREWS 4:12 ) & ( PSALM 119:105 )
Therefore: LET THE WORD OF CHRIST DWELL IN YOU
RICHLY IN ALL WISDOM, TEACHING AND ADMONISHING
ONE ANOTHER IN PSALMS AND HYMNS AND SPIRITUAL
SONGS, SINGING WITH GRACE IN YOUR HEARTS TO
THE LORD. ( COLOSSIANS 3:16 )
Now, you may consider this daily message a slice of
toast for your spiritual breakfast each morning. Now you may
enjoy even more by reading your Bible each day as well.
However do not worry, you may enjoy several spiritual meals a
day without gaining a single pound! So Bon Appetit, my Dear
Friends!
In closing, It is my hope that these messages bring a ray of
sunshine into your life each day! May God bless you, and have
a wonderful day. Amen.
With Our Love and Prayers,
Dr. Lowell & Judy Mason P.O. Box 1195 – Joplin, Missouri 64802
Our ministry is a ministry of Faith, and is supported by God's people. You may support us by a direct gift to the above mailing address, or by using PayPal.com and enter, LowellMason@joplin.com No gift is too small – No gift is too large. Thank you for your support. Romans 12:8 says: "If God has given you money….be generous in helping others! " Therefore, I ask you to consider being generous toward this ministry."
Every morning we pray for those of you who read our Thought For The Day.
Have a wonderful day, and may the love of Christ
fill your heart and mind, now and always.