…………………….THOUGHT FOR THE DAY…………………….
WHEN THE DISCIPLES SAW HIM WALKING ON THE SEA
THEY WERE TROUBLED, SAYING, IT IS A GHOST! AND
THEY CRIED OUT FOR FEAR. BUT IMMEDIATELY JESUS
SPOKE TO THEM, SAYING, BE OF GOOD CHEER! IT IS I;
DO NOT BE AFRAID. SO HE SAID, COME. AND WHEN
PETER HAD CAME DOWN OUT OF THE BOAT HE WALKED
ON THE WATER TO GO TO JESUS. BUT HE SAW THAT
THE WIND WAS BOISTEROUS, HE WAS AFRAID; AND
BEGINNING TO SINK HE CRIED OUT SAYING "LORD SAVE
ME."
( MATTHEW 14:26,27,29 & 30 *NKJV )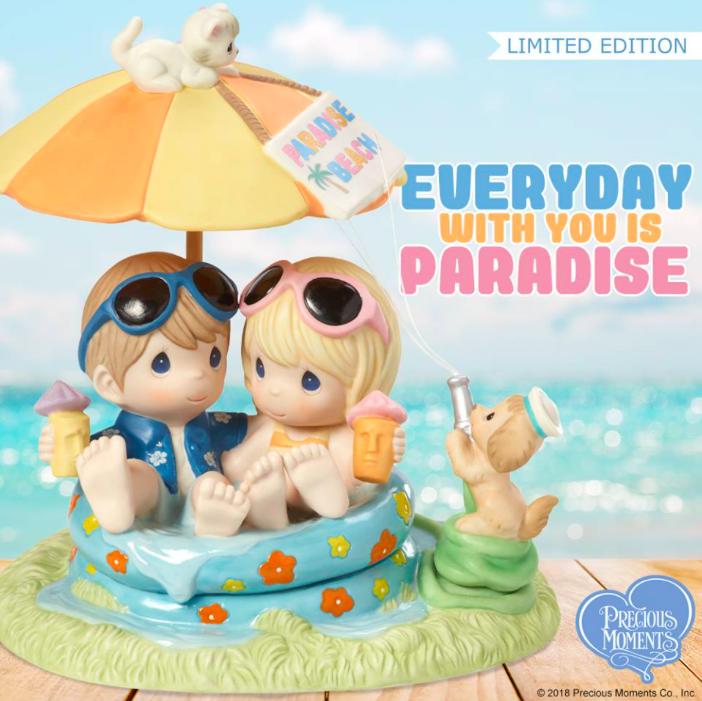 Summertime Savings – Get 15% Off Sitewide with code JUNESAVINGS at PreciousMoments.com! Sale ends 6/30.
Now Peter began to sink because he took his eyes
off of Jesus, and focused on the waves all around him.
This was because his faith faltered. So what did Peter
do but reach out to Jesus who was the only one that
could save him! You see Peter forgot to; WALK BY FAITH,
NOT BY SIGHT. ( 2 CORINTHIANS 5:7 )

Now we may not be walking on water, but when our
troubles surround us, if we focus on them instead of
placing our faith in Jesus, we will start to sink as well!
So, when you are facing difficulties and
troubles surround you; keep your eyes on Jesus'
power rather then on your problems. Also when you
are apprehensive about your troubles, and if you
doubt Christ's presence or His great ability to help;
remember that He is the only one that can really help
you as well!
So read this story. You will find it in
The Book of Matthew, Chapter 14, verses 22-33, for
wonderful reading it truly is!
Finally my friend, WATCH, STAND FAST IN THE
FAITH BE BRAVE, BE STRONG. LET ALL YOU
DO BE DONE WITH LOVE. Amen.
( 1 CORINTHIANS 16:13 )
With our love and prayers.
Dr. Lowell & Judy Mason P.O. Box 1195 – Joplin, Missouri 64802
IMPORTANT NOTE: Your support of our ministry wins souls, strengthens God's people, and provides charity in times of need through "OPERATION WECARE" which is our 501c3, tax exempt, charitable corporation . Your gift is tax deductIble and should be made out to: Operation WeCare – P.O. Box 1195 – Joplin, Missouri 64802
You may also donate at PayPal. Send to LowellMason@joplin.com
Have a wonderful day, and may the love of Christ
fill your heart and mind, now and always.