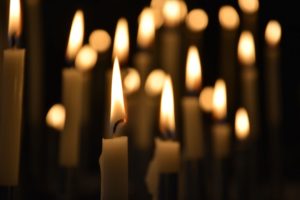 ………THOUGHT FOR THE DAY…………
"YOU ARE MY LAMP, O LORD; THE LORD
TURNS MY DARKNESS INTO LIGHT!"
(2 SAMUEL 22:29 *NIV)

We have all experienced dark times
in our lives.  Times when all hope seems gone,
and we wonder how we will ever make it
through them.
As Children of God, we always have God's
light to give us hope, and to strengthen us and
guide us out of the darkness!  What a
wonderful Heavenly Father He is indeed!  Always
there with us no matter what happens!  Also
always blessing us with His Love, Hope, Faith,
Peace and Guidance.   You see, those dark
times actually strengthened us, and shaped us
into the people we are today!
So, "LET US WALK IN THE LIGHT
OF THE LORD." (ISAIAH 2:5)  For
when you do, each morning you will be able to "ARISE,
SHINE, FOR YOUR LIGHT HAS COME, AND
THE GLORY OF GOD RISES UPON YOU."
(ISAIAH 60:1)

Then "LET YOUR LIGHT SHINE BEFORE
MEN, THAT THEY MAY SEE YOUR GOOD
DEEDS AND PRAISE YOUR FATHER IN
HEAVEN."  (MATTHEW 5:16)

All Our Love & Prayers,
Dr. Lowell & Judy Mason
P.O. Box  1195 – Joplin, Missouri 64802
American International Ministries, Inc
Operation WeCare, Inc