…THOUGHT FOR THE DAY……………………
THE LORD KNOWS THE THOUGHTS OF MAN; HE
KNOWS THAT THEY ARE FUTILE.
( PSALM 94:11 *NIV )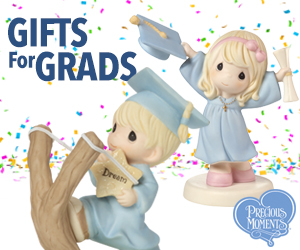 Gifts to honor the mothers in your church and community for only $1.50 plus free shipping on $25+ orders.
……………..THOUGHT FOR THE DAY……………………
THE LORD KNOWS THE THOUGHTS OF MAN; HE
KNOWS THAT THEY ARE FUTILE.
( PSALM 94:11 *NIV )
We are all Architects of our own future! The
thoughts we have today dictate what our future holds for
us tomorrow. Therefore a person who has positive thoughts
shall have positive results, just as a person who has
negative thoughts shall attract negative results in their life.
Therefore if we start each day by counting all of our
blessings, and then try our best to have positive thoughts
all day, our hearts will be merry! Because FROM THE
FULLNESS OF HIS GRACE WE HAVE ALL RECEIVED
ONE BLESSING AFTER ANOTHER. ( JOHN 1:16 )
After all; EVERY GOOD AND PERFECT GIFT IS FROM
ABOVE, COMING DOWN FROM THE FATHER OF THE
HEAVENLY LIGHTS, WHO DOES NOT CHANGE LIKE
SHIFTING SHADOWS. ( JAMES 1:17 )
So why not; SING AND MAKE MUSIC IN YOUR HEART
TO THE LORD, ALWAYS GIVING THANKS TO GOD
THE FATHER FOR EVERYTHING, IN THE NAME OF
OUR LORD JESUS CHRIST. Amen.
( EPHESIANS 5:19-20 )
Now , have a wonderful day feeling blessed
and may God's Grace be with you!
With Our Love and Prayers,
Dr. Lowell & Judy Mason P.O. Box 1195 – Joplin, Missouri 64802
As you probably know, our ministry is a ministry of Faith, and is supported by God's people. You can support us by a direct gift to the above mailing address, or by using PayPal.com and enter, LowellMason@joplin.com – No gift is too small – No gift is too large. Thank you for your support. Romans 12:8 says: "If God has given you money….be generous in helping others! " Therefore, I ask you to consider being generous toward our ministry."
Every morning we pray for those of you who read our Thought For The Day.
Have a wonderful day, and may the love of Christ
fill your heart and mind, now and always.