…………………….THOUGHT FOR THE DAY……………………..

NO TEMPTATION HAS SEIZED YOU EXCEPT WHAT IS
COMMON TO MAN.  AND GOD IS FAITHFUL; HE WILL
ALSO PROVIDE A WAY OUT SO THAT YOU CAN STAND
THE TEST.
( 1 CORINTHIANS 10:13 *NIV )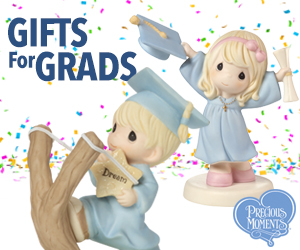 Spring into action now to save 15% sitewide with code SPRINGSAVINGS at PreciousMoments.com! Sale ends 5/31.
Now as you know this World is filled with sinful desires.
Temptations are everywhere, for you can find them on Television,
in the Movies, or even on the Internet as well!
Now this isn't something new for even our Savior Jesus Christ
even faced temptation on this Earth as well!  That is written in
the Book of Luke, ( 4:1-13.)  Therefore when you find yourself
being tempted, remember who the great tempter is and; BE
SELF-CONTROLLED AND ALERT YOUR ENEMY THE DEVIL
PROWLS AROUND LOOKING FOR SOMEONE TO DEVOUR.
( 1 PETER 5:8 )
Find Top Christian Bestseller at Churchsource.com
Also never think that God is tempting you, for it is written; WHEN
TEMPTED, NO ONE SHOULD SAY, "GOD IS TEMPTING
ME."  FOR GOD CANNOT BE TEMPTED BY EVIL, NOR
DOES HE TEMPT ANYONE; BUT EACH ONE IS TEMPTED
WHEN, BY HIS OWN EVIL DESIRE, HE IS DRAGGED AWAY
AND ENTICED.  ( JAMES 1:13-14 )

So, always turn to prayer when you find yourself being
tempted. FOR WE DO NOT HAVE A HIGH PRIEST WHO IS
UNABLE TO SYMPATHIZE WITH OUR WEAKNESSES, BUT
WE HAVE ONE WHO HAS BEEN TEMPTED IN EVERY WAY,
JUST AS WE ARE YET WITHOUT SIN.  LET US THEN
APPROACH THE THRONE OF GRACE WITH CONFIDENCE,
SO THAT WE MAY RECEIVE MERCY AND FIND GRACE TO
HELP US IN OUR TIME OF NEED.  ( HEBREWS 4:15-16 )

Now may; THE GRACE OF THE LORD JESUS CHRIST BE
WITH YOUR SPIRIT, the next time you face temptation!  Amen.
( PHILIPPIANS 4:23 )
Dr. Lowell & Judy Mason
P.O. Box 1195 – Joplin, Missouri 64802
As you know, our ministry is a ministry of Faith, and is supported by God's people.
Romans 12:8 says: "If God has given you money….be generous in helping others"!                                               "Therefore, I ask you to consider being generous toward our ministry."
For more information go to our website at lowellmason.com
and click on Thought For The Day. Every morning we pray for those of you who read our Thought For The Day.
Have a wonderful day, and may the love of Christ
fill your heart and mind, now and always.