…………………….THOUGHT FOR THE DAY…………………….
THE LORD BLESS YOU AND KEEP YOU; THE LORD MAKE
HIS FACE SHINE UPON YOU, AND BE GRACIOUS TO YOU;
THE LORD LIFT UP HIS COUNTENANCE UPON YOU, AND
GIVE YOU PEACE.
( NUMBERS 6:24-26 *NKJV )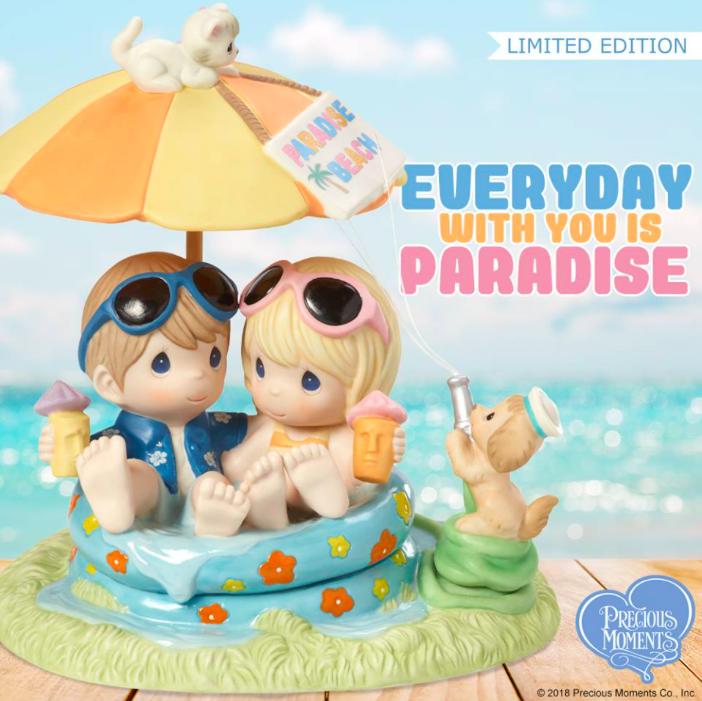 Summertime Savings – Get 15% Off Sitewide with code JUNESAVINGS at PreciousMoments.com! Sale ends 6/30.
Often we hear someone speaking of "good luck" when
something good happens to them. They even think that
they are creating their own blessings in their lives as well.
How very wrong they are indeed!
As Christians we know better, for it is written; DO NOT BE
DECEIVED, MY BELOVED BRETHREN. EVERY GOOD
GIFT AND EVERY PERFECT GIFT IS FROM ABOVE,
AND COMES DOWN FROM THE FATHER OF LIGHTS,
WITH WHOM THERE IS NO VARIATION OR SHADOW
OF TURNING. ( JAMES 1:17 )

Also God's Blessings are not only given to us in this life,
but in the life to come as well! For it is written; GOD WILL WIPE
AWAY EVERY TEAR FROM THEIR EYES; THERE SHALL
BE NO MORE DEATH, NOR SORROW, NOR CRYING.
THERE SHALL BE NO MORE PAIN, FOR THE FORMER
THINGS HAVE PASSED AWAY. ( REV 21:4 )
Therefore my friend, never forget the greatest blessing
of them all. Eternal Life with God in Heaven! A blessing
that we will receive through our Lord, Jesus Christ! So,
always give thanks and praise to your Heavenly Father, and
when you pray make sure you are; GIVING THANKS ALWAYS
FOR ALL THINGS TO GOD THE FATHER IN THE NAME
OF OUR LORD JESUS CHRIST. Amen
( EPHESIANS 5:20 )
With our love and prayers.
Dr. Lowell & Judy Mason P.O. Box 1195 – Joplin, Missouri 64802
IMPORTANT NOTE: Your support of our ministry wins souls, strengthens God's people, and provides charity in times of need through "OPERATION WECARE" which is our 501c3, tax exempt, charitable corporation . Your gift is tax deductIble and should be made out to: Operation WeCare – P.O. Box 1195 – Joplin, Missouri 64802
You may also donate at PayPal. Send to LowellMason@joplin.com
Have a wonderful day, and may the love of Christ
fill your heart and mind, now and always.