"RETURN TO ME, AND I WILL RETURN TO YOU," …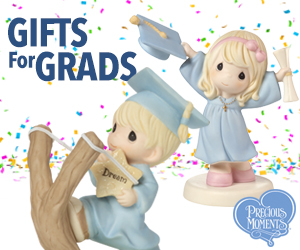 Gifts to honor the mothers in your church and community for only $1.50 plus free shipping on $25+ orders.
…………………….THOUGHT FOR THE DAY…………………….
"RETURN TO ME, AND I WILL RETURN TO YOU,"
SAYS THE LORD ALMIGHTY.
( MALACHI 3:7 *NIV )
Sometimes we may find ourselves walking
far from God. Know that if ever that happens to you it
is because we have moved, not because God has left
us. FOR THE LORD YOUR GOD GOES WITH YOU;
HE WILL NEVER LEAVE YOU NOR FORSAKE YOU.
( DEUTERONOMY 31:8 )
Now perhaps we find ourselves feeling abandoned
by God because we are overwhelmed with problems,
or because of the loss of a loved one. If that is the
case remember that; HE DOES NOT WILLINGLY BRING
AFFLICTION OR GRIEF TO THE CHILDREN OF MEN.
( LAMENTATIONS 3:33 )
Therefore if you ever find yourself feeling far from
our Heavenly Father, remember, that God is there with
open arms to receive you back. So; TAKE WORDS WITH YOU
AND RETURN TO THE LORD, SAY TO HIM, "FORGIVE
ALL OUR SINS AND RECEIVE US GRACIOUSLY."
For then He will say, "I WILL HEAL THEIR BACKSLIDING, I
WILL LOVE THEM FREELY." ( HOSEA 14:2 & 4 )
Further that is His promise always, for; JESUS CHRIST IS THE
SAME YESTERDAY AND TODAY AND FOREVER.
( HEBREWS 13:8 )
So if you are feeling far from God right now, LET US EXAMINE
OUR WAYS AND TEST THEM, AND LET US RETURN
TO THE LORD. ( LAMENTATIONS 3:40 )
Now , may THE LORD BLESS YOU AND KEEP
YOU; THE LORD MAKE HIS FACE SHINE UPON YOU
AND BE GRACIOUS TO YOU; THE LORD TURN HIS
FACE TOWARD YOU AND GIVE YOU PEACE,
( NUMBERS 6:24-26 ) and may His; GRACE BE WITH
YOU ALL. AMEN. ( HEBREWS 13:25 )
Dr. Lowell & Judy Mason P.O. Box 1195 – Joplin, Missouri 64802
Exciting news at our website: www,lowellmason.com
Our ministry is a ministry of Faith, and is supported by God's people. You may now support us by using PayPal lowellmason@joplin.com. No gift is too small – No gift is too large.
Every morning we pray for those of you who read our Thought For The Day.
Have a wonderful day, and may the love of Christ
fill your heart and mind, now and always.