…………………….THOUGHT FOR THE DAY…………………….
NO MAN HAS SEEN GOD AT ANY TIME. IF WE LOVE
ONE ANOTHER, GOD ABIDES IN US, AND HIS LOVE
HAS BEEN PERFECTED IN US.
( 1 JOHN 4:12 *NKJV )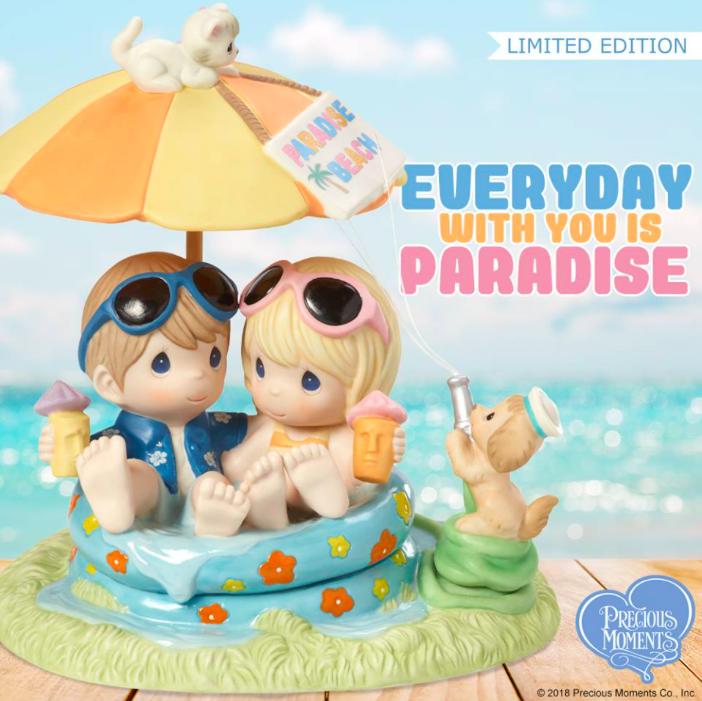 Summertime Savings – Get 15% Off Sitewide with code JUNESAVINGS at PreciousMoments.com! Sale ends 6/30.
It is written; YOU SHALL LOVE THE LORD YOUR GOD
WITH ALL YOUR HEART, WITH ALL YOUR SOUL, WITH
ALL YOUR MIND, AND WITH ALL YOUR STRENGTH.
( MARK 12:30 )
When we love God with all our heart, He fills us with
His great love! A love that is pure, and is known only by
those who love Him. He then expects us to share that
love with others. For it is written; MY LITTLE CHILDREN, LET
US NOT LOVE IN WORD OR IN TONGUE, BUT IN DEED
AND IN TRUTH. ( 1 JOHN 3:18 )

We may show our love for others by doing simple acts
of kindness! After all it is written; BE KINDLY AFFECTIONATE
TO ONE ANOTHER WITH BROTHERLY LOVE, IN HONOR
GIVING PREFERENCE TO ONE ANOTHER; AND NOT
LAGGING IN DILIGENCE, FERVENT IN SPIRIT, SERVING
THE LORD. ( ROMANS 12:10-11 )
We may also do that by doing simple things such as
smiling and saying good morning to those we see. Also
by letting them know that we care about them, and by
being there when they need a friend! The number of
ways to show God's Love to others is endless!
So , why not share God's Love with those you
see today and every day? You will find that even those
who do not believe, will respond to it! Why, because
the one thing that all humans' desire and can never get
too much of, is love!
Further it is also a way to plant the seeds of faith by
showing them the way a Christian lives. After all remember;
THERE IS JOY IN THE PRESENCE OF THE ANGELS OF
GOD OVER ONE SINNER WHO REPENTS. ( LUKE 10:15 )
Thus when we do that we are working for God as well!
Amen.
With our love and prayers.
Dr. Lowell & Judy Mason P.O. Box 1195 – Joplin, Missouri 64802
IMPORTANT NOTE: Your support of our ministry wins souls, strengthens God's people, and provides charity in times of need through "OPERATION WECARE" which is our 501c3, tax exempt, charitable corporation . Your gift is tax deductIble and should be made out to: Operation WeCare – P.O. Box 1195 – Joplin, Missouri 64802
You may also donate at PayPal. Send to LowellMason@joplin.com
Have a wonderful day, and may the love of Christ
fill your heart and mind, now and always.