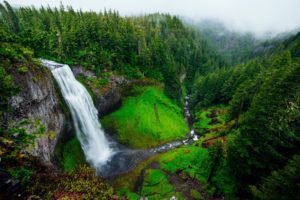 ………..THOUGHT FOR THE DAY……….
HE HAS MADE HIS WONDERFUL WORKS TO BE REMEMBERED; THE LORD IS GRACIOUS AND FULL OF COMPASSION.  ( PSALM 111:4 *NKJV )
No matter where we live in this World, when we look around us, we see God's wonderful work everywhere.  It is no wonder that the Twenty-Four Elders before the Throne of God praise  Him and say, "YOU ARE WORTHY O LORD, TO RECEIVE GLORY AND HONOR AND POWER; FOR YOU CREATED ALL THINGS, AND BY YOUR WILL THEY EXIST AND WERE CREATED."  ( REVELATION 4:11 )

After all, have you ever taken the time to enjoy a beautiful sunrise or sunset?  Ever noticed the true beauty of a rose?  Ever looked at the mountains or the ocean with awe? Ever spend time just looking at the beautiful clouds above, or at a rainbow after a storm?
God's beautiful creations, and His Great Love surround us when we take the time to notice. For; HE HAS MADE EVERYTHING BEAUTIFUL IN ITS TIME.  ( ECCLESIASTES 3:11 )

Now why not stop for a moment today, and look around, savoring all the beautiful sights?  You will find that a great peace will fall upon you when you do!
So, relax today; AND LET THE PEACE OF GOD RULE IN YOUR HEARTS, TO WHICH ALSO YOU WERE CALLED IN ONE BODY; AND BE THANKFUL. For it is then that; THE PEACE OF GOD, WHICH SURPASSES ALL UNDERSTANDING, WILL GUARD YOUR HEARTS AND MINDS THROUGH CHRIST JESUS.   Amen.
( COLOSSIANS 3:15-16 )  &  ( PHILIPPIANS 4:7 )
With Our Love & Prayers,
Dr. Lowell & Judy Mason
P.O. Box 1195 – Joplin, Missouri 64802
American International Ministries, Inc
Operation WeCare, Inc