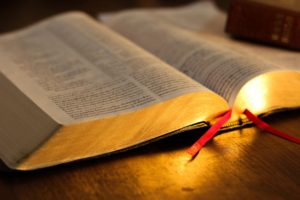 ……..THOUGHT FOR THE DAY……..
YOUR WORD IS VERY PURE; THEREFORE YOUR SERVANT
LOVES IT.
( PSALM 119:140 *NKJV )
Now when we study God's Word it builds our faith
in Him, and gives us peace of mind.  After all, THERE HAS
NOT FAILED ONE WORD OF ALL HIS GOOD PROMISE,
WHICH HE PROMISED THROUGH HIS SERVANT MOSES.
( 1 KINGS 8:56 )

So I hope that you will enjoy the following message, in
which we condense the Bible to 50 words.  Those of you
that have read the Bible, even a little, shall enjoy this game
called "Bible Tag."  For you will have a good laugh or two,
now what better way to start your day?
    BIBLE TAG!!!
( How To Describe The Bible in 50 Words! )
     God made
     Adam bit
     Noah arked
     Abraham split
     Joseph ruled
     Jacob fooled
     Bush talked
     Moses balked
     Pharaoh plagued
     People walked
     Sea divided
     Tablets guided
     Promise landed
     Saul freaked
     David peeked
     Prophets warned
     Jesus born
     God walked
     Love talked
     Anger crucified
     Hope died
     Love rose
     Spirit flamed
     Word spread
     God remained.
Tag your hit!  Consider yourself hit by…The Love Of GOD!
And remember, When Prayers go up, Blessings
come down.   Amen.
In Our  Love & Service,
Dr. Lowell & Judy Mason
P.O. Box 1195 – Joplin, Missouri 64802
American International Ministries, Inc
Operation WeCare, Inc
Follow us on Facebook
There are many successful businesses that pay a commission back to Charitable corporations, like ours, when we advertise for them.
Our ministry has been chosen to to receive commissions from some of these companies. At the bottom of this page you will see advertisement links from those companies.
The only way our ministry will receive credit is if you click on that advertisement, then as you browse through the list of products and place an order for items sold by these companies, the company will send the product directly to you. That company will then send us a commission, and you have supported our ministry.